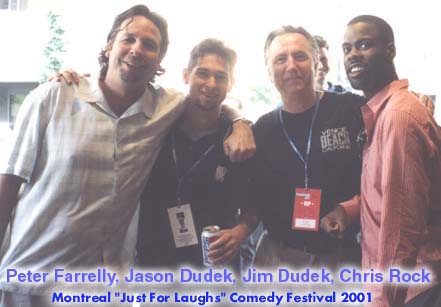 ABOUT THE FILm OPEN MIC
<![if !supportEmptyParas]> For every comedian you see knocking the audience dead on Leno or Letterman, there are thousands more who battle each week, not for the national spotlight, but for five minutes of stage time at some hole-in-the-wall diner, bar or bookstore. Their story is the central focus of the documentary film Open Mic.
<![if !supportEmptyParas]> Open Mic takes a behind the scenes look at stand-up comedy. The film features appearances by such notable comics as Dave Chappelle, Bobcat Goldthwait, Shawn Wayans, Richard Jeni, Charles Fleischer, Victoria Jackson, Jackie "The Joke Man" Martling, Dom Irrera, Jeffrey Ross, Jim Breuer and more. They all share their own accounts of the struggle involved in making it to the big time.
<![if !supportEmptyParas]> Director Jason Dudek weaves together this tale of two comedians (newcomers Butch Bradley and Dan Aubrey) whose careers are heading in two divergent directions, one towards super-stardom and the other towards a nervous breakdown.
<![if !supportEmptyParas]> Dudek takes a cynical look at the human condition using the world of standup as his backdrop. "Sadly, we live in a world where it is more important to be famous than to be wealthy, healthy, or even happy" Dudek explains. "I wanted this documentary to show the lengths to which people will endure rejection and pain in order to be validated by others. In the end, I hope that audiences walk away with a better appreciation of the sacrifices these comics go through to make us laugh."
<![if !supportEmptyParas]> In order to attract the most interesting cast of characters, Dudek scouted over 300 open mic comics from Florida to Los Angeles. One of the comics he finally settled on was a struggling, Woody Allen-like comedic hopeful named Dan Aubrey.
<![if !supportEmptyParas]> "Dan was selling men's ties over the phone in a sweat shop during the day while dodging bill collectors, and driving all over South Florida in the evenings, looking for five minutes of stage time anywhere he could find it," Dudek recalls.
<![if !supportEmptyParas]> Although much of the film focuses on Dan's endless array of bad performances, a disastrous blind date (perhaps the film's funnies moment) and interviews with Dan's overbearing parents, the filmmakers also discovered a breakthrough talent in Butch Bradley.
<![if !supportEmptyParas]> "We found Butch in the open mic line outside the Laugh Factory in Los Angeles," Dudek recounts. "His is the story of hope. In the six months that we followed Butch, he was signed by legendary Laugh Factory club owner/manager Jamie Masada, he made his first national television appearance on The Martin Short Show, he opened for Richard Jeni in Las Vegas, he was signed by the same agency as Howard Stern, and he landed a television pilot. Butch experiences the American dream right on camera."
Although the film unfolds like a bittersweet comedy, it will not disappoint those in search of greater insight into the inner workings of stand-up. The personal sacrifices of the comics and the politics of show business are all tackled head-on in this sometime disturbing, yet very funny and compelling film.
<![if !supportEmptyParas]> Jason Dudek's first feature documentary, Open Mic, garnered acclaim as one of only two independent films selected to screen at the world's largest and most discriminating comedy festival, Montreal's Just for Laughs. In Montreal, Open Mic screened alongside his former boss' film, the Farrelly Brothers', Osmosis Jones and the largest grossing independent film, My Big Fat Greek Wedding. After Montreal, Open Mic hit the festival circuit running. It was the only feature to screen at the Chicago Comedy Festival and took home top honors at the New Orleans Comedy Festival and the Michigan Independent Film Festival. It also received a special invitation from the Fort Myers Beach Film Festival.
<![if !supportEmptyParas]> The independent feature documentary film, Open Mic, was released in theaters in the fall of 2003 by Miami Entertainment Corporation. After a two year theatrical run, Open Mic was officially released on DVD in 2005 by Ark Distribution.