[ Home ] [ STORY ] [ THE DIRECTOR ] [ CAST & CREW ] [ PHOTOS ] [ WHAT'S NEW ]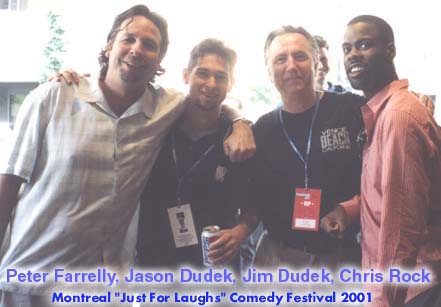 Jim Dudek, Writer / Producer / Director
During his 35 years in show business Jim has worked in every facet of the industry, specializing in production and promotion of live events, television shows, and films. Born and raised in Detroit, Michigan, Dudek started his entertainment career as a musician, band manager, and then concert promoter working with the legendary Bob Bageris of Bambu Productions. In 1974, Jim moved to Miami, Florida where he founded Miami Entertainment. Jim sold off the music division in 1987 to concentrate on television and film production.
Among his many achievements was the Star Movie Show, a broadcast television show that played older movies while promoting new film releases during the movie breaks. Dudek produced, wrote and directed over 2500 episodes of this Monday thru Friday, two hour program. The Star Movie Show aired on FOX KIDS WADL TV38 DETROIT from 1990 thru 1999. As part of the television show, Dudek was constantly promoting free screenings of new movies at area theaters before the films were actually released to the public. He sometimes screened as many as four different films per week. Jim promoted big budget blockbusters and art films for all the major studios, including Disney, Paramount, MGM/United Artists, Universal Pictures, Warner Brothers Studios, 20th Century Fox, Sony/Tri-Star, Miramax and more.
In 2000, Dudek turned his attention from television and movie promotion to film production, (writing, producing, directing, editing). His first feature film "P.I. BLUES", a comedy about a 'wanna-be' private detective, finished in July, 2002 and opened in the Detroit area Friday, February 21, 2003 at the Emagine Theatre, voted "Best Theatre" by the Detroit Free Press. "P.I. Blues" has become an area cult hit and is still running at the Roseville Theatre on Metro Detroit's east side (48th week).
In the past, Jim was fortunate enough to work with some of Hollywood's hottest directors, writers and actors, including Quentin Tarrantino, Robert Rodriquez, Kevin Smith, Curtis Hansen, Edward Burns, David O'Russell, George Clooney, Shawn and Marlon Wayans, Stanley Tucci, Cheech Marin, Selma Hayek, Theresa Randall, Steven Baldwin, Jeremy Northum and many more. Jim says, "I never missed an opportunity to talk shop with any of these people. The experience was fantastically rewarding"
Jim Dudek is especially proud of his two children. His 28 year old son, Jason Dudek, lives in Los Angeles, has worked on over 60 major motion pictures, and is a member of the Directors Guild of America. The 2003 Sundance Film Festival "Dramatic Directing Award" went to the film "Thirteen". Jason served as assistant director on that film. Jim's 24 year old daughter, Alison Dudek, lives in Seattle, was a professional cheerleader with the NFL Seattle Seahawks in 2002 season. Alison was "Miss January" in the official Seattle Seahawks 2003 Calendar. She won Seattle area beauty pageants in 2003 and 2004. Alison finished in the top 10 for the title of "Miss Washington" in 2003 and 2004, part of the Miss America pageants. Ms. Dudek is currently a dancer for the NBA Seattle Sonics. This is her second year dancing for Seattle's professional basketball team. Alison also works for FOX SPORTS NET.
"The production of P.I. BLUES has been a blast. I hope audiences have as much fun watching this film as we've had making it." Dudek proclaimed. Jim plans to write, produce and direct more films. His next project is a sci-fi, adventure, romantic comedy film.